Course Overview
Online General English is our most popular course to learn and improve your English. Our teachers design interactive and stimulating digital online English classes and you'll communicate with your teacher and classmates via video lessons and email.
Look at this image to see part of a lesson with our teacher David.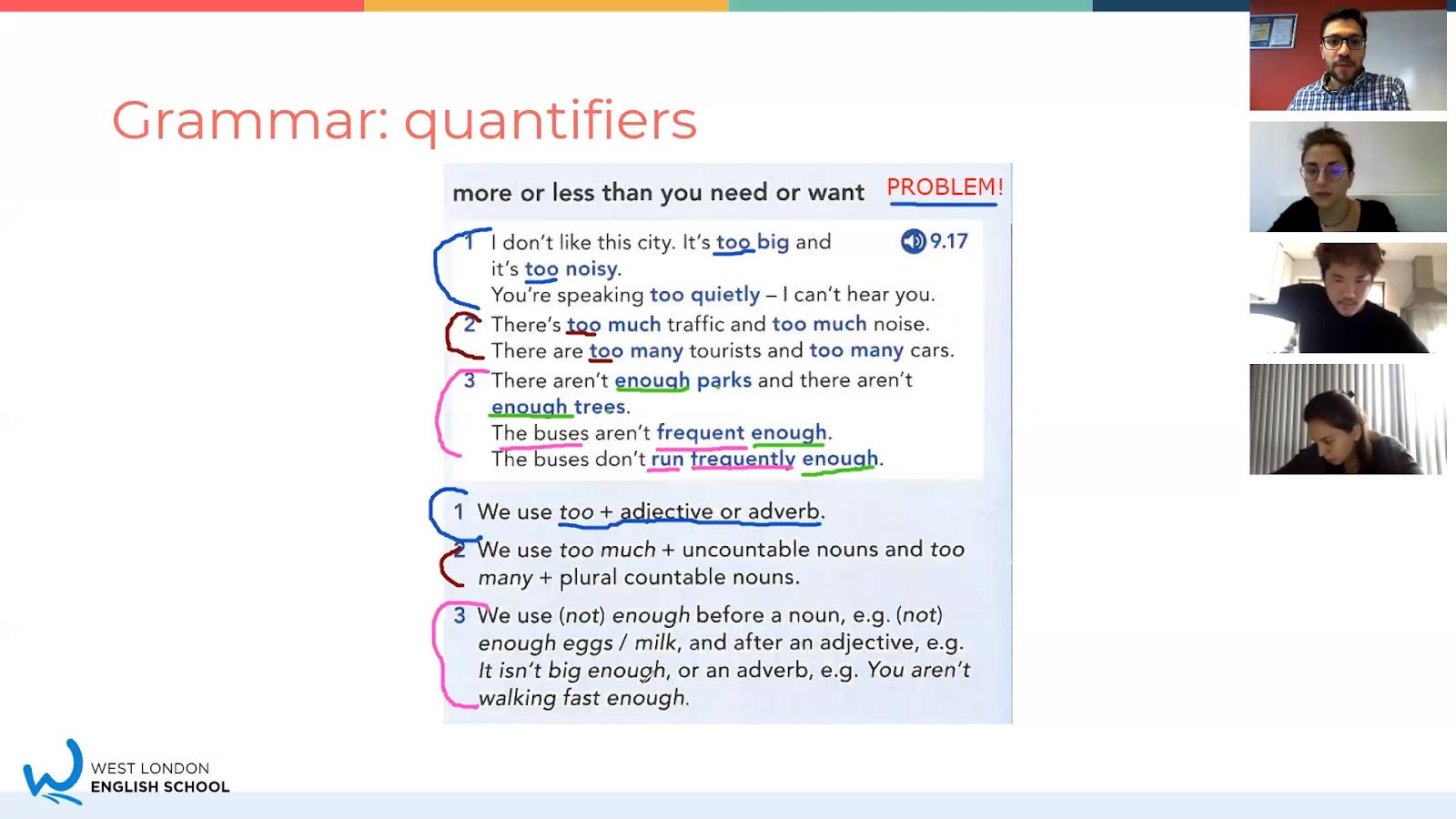 In the class, you will work with other students (usually 1-3 other students) on your speaking, listening, reading and writing skills as well as vocabulary, grammar and pronunciation. Because the classes are learner-centered, you can practise your English with students from all over the world. Our academic team select relevant and interesting coursebooks to ensure you receive a variety of language input. Your teacher will also give you several recommendations to help improve your English such as YouTube links, news articles to read and other online resources and games.
We teach all levels including beginner English, advanced English and proficiency. You can also choose to combine your online General English course with online IELTS exam preparation, online First certificate in English or online Advanced Certificate in English. This will give you a more intensive English course.
Why should you choose an online course?
It can be much more comfortable to attend lessons from home!
Our online courses are cheaper than our face-to-face courses
You don't need to travel to the school, so this saves you hours of travelling time, as well as all travelling costs!
Our maximum number of students for online courses is smaller than face-to-face courses, so you get more attention from your teacher
There are no visa restrictions - you can join us from anywhere in the world, and become part of an online international learning community
Online courses are much more environmentally friendly than face-to-face courses. There is no need to travel, and the classes are paper-free because the teacher doesn't need to print handouts or make photocopies for you.
Online General English Mornings
Monday
Tuesday
Wednesday
Thursday
Friday
9-12.00 (15-min break)
3 hours per day, 5 days a week
Online General English Afternoons
Monday
Tuesday
Wednesday
Thursday
Friday
12.30-15.30 (15-min break)
3 hours per day, 3 days a week
Online General English Intensive
Monday
Tuesday
Wednesday
Thursday
Friday
9-12.30 (15-min break)

12.30-15.30 (15-min break)
24 taught hours per week
General English Exam Intensive (plus Academic IELTS or Cambridge Exam Preparation)
Monday
Tuesday
Wednesday
Thursday
Friday
9-12.30 (15-min break)

12.30-15.30 (15-min break)
24 taught hours per week
Online General English Evenings
Monday
Tuesday
Wednesday
Thursday
Friday
19.00-21.00 (10-min break)
2 hours per day, 2 days a week
Online General English Saturdays
Monday
Tuesday
Wednesday
Thursday
Friday
Saturday
10:00-13:15 (break 11:45-12:00)
3 taught hours
Weeks
Hours per week
Price per week

Full-time courses (General English)

15

£120

Part-time courses (General English)

9

£75

Part-time courses (General English)

4

£35

Saturday courses (General English)

3

£25

1 to 1 classes

£50 per hour